Monthly Archives:
September 2020
First Lorna appears on the hot tub deck. Then Gianna appears. And finally the third in our trio of Terry, Lorna and Gianna take off Terry's tank top to expose her brassiere. Mutual tit touching begins. Soft hands caress and fondle the gorgeous big boobs that have floated in the dreams of countless male brains.
Lorna lifts up Gianna's tube top and plays with her hooters. Gianna, always aggressive, squishes her chest against Lorna's chest. Lorna stares at Gianna with wide-eyes and a lascivious expression and licks her nipple. She sucks on Gianna's nipple.
Everyone gets naked. The first one in the hot tub is Lorna. Terry and Gianna kneel on the deck behind Lorna and rub her tits, then they get in. The warm water and the intoxicating scent of female bodies inflame their senses. Aroused and horny, they play suck-a-nipple and then separate to masturbate as the suds get higher.
How a busty MILF found excitement
It's a big world out there, but you've never seen another 50something like Robin Pachino. Besides being mega hot with perfect tits, Robbin also likes to knit…and she also has a kinky sex dungeon in her backyard. Watch in disbelief as this fine MILF sticks a replica of a wolf's cock in her wet twat and makes the most original, orgasmic sounds we've ever heard, at least in this galaxy.
"My entire body is a pleasure center," she said. "My ex-husband says I'm a slut. I tell him he's an asshole for losing the best piece of ass he'll ever have. Eat your heart out, baby! My old job was boring. My marriage was boring. My life was boring."
It's not boring anymore.
From her full boobs to her juicy pussy, which always seems to be lubed with just the right amount of what Angela calls her "fuck-me juice" to that perfect asshole, Angela had the perfect Voluptuous Girl poster body in the mid-2000s (she has since become more of a slim 'n' stacked SCORE Girl).
But it's attitude that separates Angela from other girls. There isn't a hornier girl alive. Pick a hole, any hole. Angela doesn't care how or where you fuck her.
"Anal, oral, straight sex…you can fuck my belly button and cum all over my toes if you want," she said. "It doesn't matter to me! I just love to fuck."
These days, Angela is putting her sexual acrobatics on full display on-video (such as in the new DVD Angela White, in which she gets fucked in every orifice and DP'd). Back in 2005 when these photos were shot, we had to take her at her word…or just look at the photos of her fucking herself with huge toys. A girl doesn't get that good at it without practice.
It was only natural for Lorna, Terry and Gianna to get into a hot tub and have a party. It was an international trio. Gianna, the American porn superstar, Terry, the Czech pornstar, and Lorna, the Welsh big-bust model who has never gone near XXX porn and never will. Three hot babes, one hot tub, one island paradise. Everyone had a great time! Terry didn't need to speak English to communicate with Gianna and Lorna. Busty girls have boob ESP and don't need a Czech-English phrase book to do their magic. Besides, what they do in these photos is not in any dictionary.
Angela White dressed for school. This is not a stretch of the imagination. Angela went to a university in Australia, but she did not wear anything like this.
"I usually wear my little Dickie dresses," Angela informed us. "The brand Dickie came out with little dresses. I always have to order my Dickies from America and pay three times as much. They call them their nurse dresses. They're short and they button all the way up, and they come in different colors."
In this video. Angela is amazingly talented and extroverted for a new model who'd just graduated from high school. She seems to be as much at home in the SCORE Studio as she would be in her own private bedroom. Jiggling her big, gorgeous tits or rotating a toy dick in and out of her wet pussy, Angela savors every second of the moment as our behind-the-scenes cam records the horny Aussie babe at play.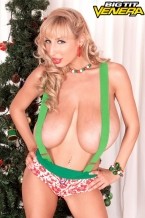 Vivacious Venera as Santa's helper? Works for us just like it works for Leanne Crow and Valory Irene, and, going further back in time, Linsey Dawn, Autumn-Jade, Sharday, Kerry Marie, Chloe, Kianna Dior, Miranda and other hot busties who've worn the Xmas red-and-whites. (Green for Venera this year.) We asked Venera, "If a guy brings you a gift on the first date, what's the best thing he could bring you: roses, chocolate or a new dress?" "I don't ask men to buy me clothes," Venera said. "I can buy my own. And chocolate I don't eat. And roses are not my favorite. I prefer spring flowers. So just bring yourself!" Fair enough! Venera knows what she looks good wearing. "Sexy stuff! I like clothes that show my cleavage. It doesn't always have to be so fancy because I also like casual, comfortable things, but I don't like big clothes. I like clothes that are tight and show off my body. But sometimes clothes don't have to be tight to be sexy. It can be something interesting that shows off your body in some other way, perhaps something that leaves something to the imagination." But only just a little! That slim and stacked physique was made to wear dental floss string bikinis! It's enough to drive a man completely insane.
At SCORE we don't often drink beer but when we do, we drink it with hot babes like Terry Nova. She also happens to be an expert bartender. After all, she is Czech, where brewing beer is in their DNA. Very handy with a cocktail and a corkscrew also as you have seen many times. Problem is, Terry never gets any work done at the bar. She's too busy taking off her clothing and messing around with bottles and sex toys to sell any drinks. She's shaken and stirred. Also Terry's very messy drinking beer. Half of it spills all over her tits when she drinks. We suspect that she does this on purpose to attract attention. But that's fine. This establishment does not need a bar rescue. Terry knows exactly how to pour it on.
Angela had just finished up high school when she visited our studio for the first time in 2003 and would go on to college. Can you imagine sitting next to a girl like Angela in a classroom? You'd never be able to concentrate on what the teacher was saying. Of course, the teacher would be focused on Angela's rack.
"I can honestly say I don't get any favors like better grades than I deserve or anything like that," Angela said. "I've earned my good grades the old-fashioned way, through paying attention in class and studying what I'm supposed to. The funny thing is with my breasts as large as they are, people have a way of judging me as being stupid before they even get to know me, like I'm a bimbo or something. I definitely am not a bimbo and people find that out rather quickly in an academic setting like at the university."
You tell 'em, Angie!
"I became a slut when I turned 50," said Robin Pachino, a 51-year-old fuck-film star.
Slut? We think she's being too hard on herself.
"What else would you call a woman who, out of the blue at age 50, decides to start fucking strangers in front of the camera? I know what my ex-husband and my children would call me if they knew. They'd say I became a slut. Okay. I'm proud of it."
We asked Robin why she got into porn, and she said, "Because I wanted to get fucked by young studs. Because I thought it was the best way to enjoy anal sex. Because my life was boring and I needed some excitement."
She's getting lots.
"I love the way you guys tried to glam me up. It didn't work. I'm not glamorous. I'm bad!"
Angela & the big, black fuck toy
Angela was 18 years old in 2003 when she flew 16 hours from her native Australia and became the first Aussie bra-buster to visit our studio in Miami, Florida. That was a big event for her, made even bigger when she made her first SCORE appearance in the December 2003 issue. These photos are from that issue.
"What does being in SCORE mean to me?" Angela White said. "It means everything! It honestly does. All through my childhood, all I ever wanted to be was a model. Being a model meant that you got to prove to everyone that you were beautiful. I guess I really wanted to do that because I was insecure about my appearance. I was pretty chubby as a kid, so I thought I had no hope. At that stage, of course, I was young; too young to think of men's magazines as an option. At 12 and 13 years old, I lost weight and became really thin. I was able to do a bit of modelling then, but of course, I was still unhappy because I was flat-chested.
"Being flat-chested was a real issue for me because I felt so different. Most of the other girls had a little bit of curve, but I had the body of a boy. I used to cry about it when I got home from school, and my mum always told me not to worry because she knew that I would catch up to them and overtake them. I was around 14 years old when I developed, and boy did I develop! Everything moved at a fast pace from then onwards. I became happy with my body.
"My dream was to appear in SCORE like so many of my idols, like Linsey and Autumn. Honestly, it still seems surreal to me that I have actually made it. I feel better about my body now than I ever had. I'm now getting even more attention from guys and it feels really great. What does it mean for me to appear in SCORE? It means my body can finally get the appreciation that it deserves, it means that I am actually living my dreams and it means that I can finally be myself."