Monthly Archives:
April 2021
Bhiankha: The Sexy Clothing, Oil and Lactation Show
"Bhiankha's tits are big enough that she'd be a Voluptuous Girl even if she wasn't the greatest milk-squirter we've ever seen," wrote Vmag editor Dave in Volume 27 No. 6 of the magazine. Bhiankha is all that and more, much more.
In this scene direct from Bhiankha's bedroom (where we would like to move into if she had the space), beautiful Bhiankha tries on some of her sexy outfits by her mirror. All of them show off her fantastic boobs, booty and legs, including a pair of Daisy Dukes and a tight, short dress. Bhiankha doesn't own any clothing that's not sexy-hot. She has the slim and naturally busty body that drives everyone crazy. After she puts on and peels off three outfits, Bhiankha claps and squeezes her pliable breasts, and rubs and tugs her very thick, long nipples.
A star at self-sucking, Bhiankha works over her tits with her lips, oils her tits and ass, and fucks her pussy with a thick dong while she squeezes her nipples to squirt out streams of breast milk. As Bhiankha pumps her pussy, she continues her milking and self-sucking, drinking some of the nipple-nectar that hasn't dripped down her chest. She's a special girl who will never leave you high and dry.
Ellie Roe is a woman of varying interests. One of her more surprising interests is that she's a big wrestling fan and watches WWE events as often as she can. She's not just a hottie, she's a super-hottie.
"I like to keep things interesting in the bedroom," Ellie said. "I like dressing up in leather and whatnot. I'm also into spanking and a little bondage, too. It's a fun opportunity for me to be the one to take control."
Ellie still has a few items to check off her fuck-it list, though.
"I'd really like to have sex outdoors. It could be in a park or just a public place. A bathroom or a dressing room would work, too. The fear of getting caught would make it hot." Ellie is also into girls and her first time was with an older woman. "She really had her way with me. I loved every bit of it."
Going through the bedroom closet, Alyssa Lynn picks out several tight sexy dresses and checks herself out in the mirror with each change of outfit. After picking out a purple number, Alyssa spanks her pussy.
There are two main differences between the video of the scene and this pictorial.
The video is filmed voyeuristically, as if we are spying on her as Alyssa dresses and undresses, and she masturbates in bed. In the photo set, Alyssa acknowledges the camera in most of the pictures and she 'bates in a chair, eye-banging the camera. With her slim and stacked body, Alyssa could easily be a model in a stripper-wear catalog.
Marco Has It In For His Boss Roxy Royce
Roxy Royce is the head executive of a bra and tank top business she's built with her own two huge tits. She's an imposing presence around the office. The male employees stare at her when she walks around the building and the females get jealous. Today, Ms. Royce wants to speak to her employee Marco about how he dresses at the office and not wearing a tie. Marco thinks it's the end for him but it's actually the beginning of a happy ending for the two of them.
Roxy's title is Chief Busty Officer and Marco is about to find out why she's called the head executive. Marco gets the green light to make a play for Roxy when she puts her hand on his junk and rubs it to feel how big it is. When Marco unbuttons Roxy's blouse, he goes crazy over her massive boobs. Roxy's an expert at sucking cock, as well as hands-free and fantasy tit-screwing. She and Marco turn the office into a fuck palace.
"My husband and I were both business executives, so we tended to be very discreet, but now I'm doing this, so I guess a lot more people are going to see me, which is fine with both of us," Roxy told us. "I'm proud of how I look and he's proud of his wife."
Roxy likes fit, hung and handsome guys. In her spare time, she likes to pole dance or go to the beach. She's not a swinger or a nudist.
"A huge cock satisfies me. I like to have sex daily and sometimes twice a day. My fantasy is to have my own private cock and cum party."
This buxom brunette's body is perfect for contorting into all of the raunchiest positions you can think up. But when you have a body like hers, the classic positions can be just as satisfying. Crawling into view on all fours as her latest scene opens, Ohio native Lucy Lenore looks ready to take a doggy-style pounding.
"Don't you like my big ass in these jeans?" Lucy says, smacking her bottom.
We sure do, but we know we'll like her ass even more out of them.
"Don't you want to just take a bite?" Lucy adds.
In urban lexicon, big butts are referred to as "apple bottoms," and Lucy has one big enough to feed a small village. Of course, her backside isn't the only place in which Lucy is blessed. The biggest reason Lucy is here with us–and is a new favorite of the Brotherhood of XL Men–is because she has ample sweater meat.
"This bra makes my tits look so big," Lucy says as she fondles her J-cups. "It can barely contain them."
Nothing man-made can contain those girls, but they're made to be held in a boob man's hands. Frankly, so is her whole body. If you've ever asked a plumper lover what he loves about these women, their soft, huggable curves are at the top of the list. They are kissable, pinchable and made for soft nibbles and big bites.
Simply, they're the best girls in the world. And this girl Lucy shows us all of the ways in which they are.
Brooklyn Springvalley: Lust For Lingerie
Brooklyn Springvalley loves costuming and wearing lingerie. For this mega-big bust show, Brooklyn brought a bra and panty set and stockings with garters. Traditional, classic lingerie never gets old and never will in men's magazine, videos and web shoots.
SCORELAND: What is the most-unusual position you've ever tried?
Brooklyn: I think it's called The Wheelbarrow.
SCORELAND: That's a difficult one. What position do you sleep in?
Brooklyn: I sleep usually on my side but sometimes on my back or stomach. I shift around a lot.
SCORELAND: What is something you have tried, but will never do again?
Brooklyn: Antique wooden roller coasters.
SCORELAND: Are you into any fetishes?
Brooklyn: Tentacles, light BDSM, free use and hentai.
SCORELAND: What kind of music do you listen to at home? Do you dance around the house while you're listening?
Brooklyn: I dance and I sing and I listen to a lot of comedy tunes such as Stephen Lynch, SNL and Lonely Island.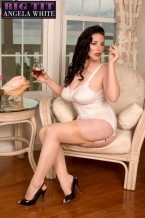 Angela is all decked out in a glamorous bustier and girdle and with what we call "M'Lady" shoes on her stockinged feet. A glass of vino and a cigarette stuck in a rich dame's holder complete the image of sophistication and elegance.
Of course, by the end of the pictorial, she's spreading her pussy and asshole and fucking herself with a big dildo.
"At times I'll look at your magazines and I think about how nice it is when the girls are on their own and looking glamorous and leaving some mystery about themselves," Angela said. "But then I realize that this is what the guys have wanted all along. They just couldn't have it because of society and laws. Now that I can give it to them, I'm going to give them everything I have."
These photos were shot at our beach house in Eleuthera, the Bahamas during Big-Boob Paradise week. Angela was truly in paradise.
Suki Ski's Yoga Bare Boobs Class
Milan is trying to meditate while he waits for yoga instructor Suki Ski to arrive for his first lesson. And what a lesson he's going to learn. Young Suki is not just very flexible. She's blessed with huge, beautifully-shaped breasts and a very sexy body. Milan might as well give up his plan to have a tranquil meditation and yoga session because any guy would pop his cork over spectacular Suki in her tight top and yoga pants.
Suki apologizes for being a few minutes late and starts to show him some moves, but as she bends forward, her boobs keep falling out of her top. The last thing in any man's mind now would be properly executing yoga poses. No, you'd be thinking about yoga bare sex positions with this luscious lovely.
Suki sees Milan is sprouting wood. Before her lesson can really get started, Suki stops and de-pants him. When she sees what he's packing, she plays with it and makes him as hard as a pipe. She goes south on Milan's dick and sucks it worshipfully, a pose not described in any yoga guides. Hard cock and big tits are natural workout partners. They alternate between hot tit-fucking and Suki sucking him with juicy blow jobs, which propel Milan into a state of nirvana.
Milan fully undresses Suki and puts her into a position that's similar to a traditional yoga pose. It's called the downward doggie-pump position and is just the first of several yoga bare poses teacher and student will work on.
Chantel Ferrera: Smashing Time
Chantel Ferrera is a bouncing Czech and Dieter is the guy who keeps sexy Chantel and her big boobs bouncing and swinging by fucking her fast and hard. It's speed screwing at its most furious.
Dieter has no time for small talk or anything else, including admiring Chantel's hot body or saying hi. His objective is to ruthlessly smash the lithe and flexible Chantel like a maniac and get his dick lip-locked until he can douse her with cum. Dieter is almost twice as old as Chantel but fucks like a guy half his age and for a long time. It could be that good Czech beer.
Chantel is a well-known porn star from Prague who's also known as Chantal Ferrera, Simona Sen, Brigit and possibly more names. Chantel's into girls, guys, orgies, threesomes and any combos that can be dreamed up.
If you watched Demora Avarice's video before checking out these photos of her incredible body, we completely understand if you're seeing double or feeling a bit light-headed.
Here's a little more Q& A with Demora.
XLGirls: Do you have any sexual fantasies?
Demora: I don't really have any, honestly.
XLGirls: Are you sexually assertive or passive?
Demora: Passive, although I have times when I can be assertive.
XLGirls: What sexually satisfies you best?
Demora: I really enjoy breast and nipple play. It's my oral.
XLGirls: How often do you have sex?
Demora: It varies.
XLGirls: What's your favorite position?
Demora: From behind or on-top.
XLGirls: What type of foreplay do you enjoy?
Demora: Lots and lots of breast play.
XLGirls: What do you want to try in life that you haven't done yet?
Demora: I would love to be able to travel.
XLGirls: Thank you, Demora. See you again soon.